In the vast digital expanse, WordPress stands out as one of the most versatile and user-friendly platforms. However, like any dynamic tool, it requires regular upkeep to ensure optimal performance, security, and user experience. As a leading website maintenance company, we offer a comprehensive suite of WordPress maintenance services tailored to meet the unique needs of every business. Let's delve into what sets our services apart and why they're essential for your WordPress website.
The WordPress Advantage: Flexibility with Responsibility
WordPress, with its flexibility and extensive plugin ecosystem, is a preferred choice for many businesses. However, this flexibility also comes with the responsibility of ensuring that the website remains updated, secure, and optimized.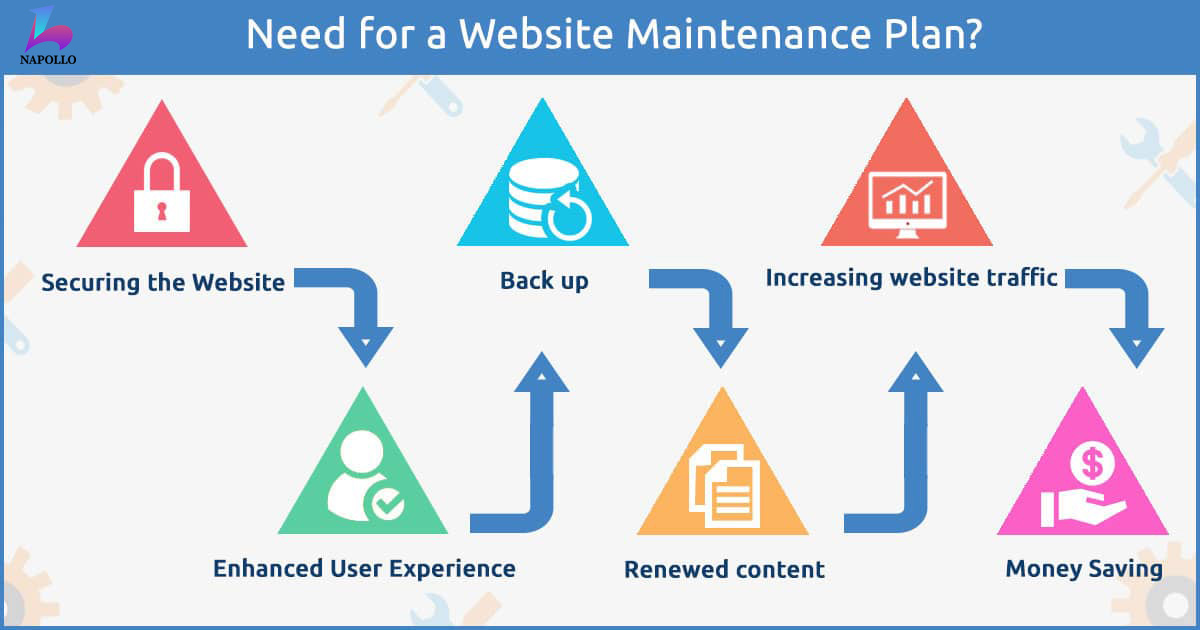 Best Practices for WordPress Website Maintenance
1. Regular Backups
Schedule automated backups of your entire website, including databases.
Store backups in multiple secure locations.
Periodically test backups to ensure they're functional and can be restored quickly.
2. Security Enhancements
Implementation of advanced security measures to ward off potential threats.
Regular security audits, malware scans, and immediate threat neutralization.
3. Theme and Plugin Management
Regular updates of all themes and plugins, ensuring compatibility and security.
Removal of redundant plugins and themes, enhancing site speed and performance.
4. Speed and Performance Optimization
Image and database optimization to ensure swift loading times.
Implementation of caching solutions and CDN integration for enhanced performance.
5. SEO Monitoring and Implementation
Regular SEO audits, keyword monitoring, and on-page optimization.
Ensuring SEO-friendly URLs, meta tags, and content updates.
6. Content Management
Regular content updates to keep your site relevant and engaging.
Archiving outdated content and ensuring all content is mobile-responsive.
7. Regular Reporting and Analytics
Monthly reports detailing website performance, user metrics, and maintenance activities.
Actionable insights and recommendations for further improvements.
8. 24/7 Technical Support
A dedicated team available round the clock to address any issues, ensuring your website remains up and running at all times.
9. Training and Consultation
Offering training sessions on WordPress best practices for your team.
Regular consultations to align our services with your evolving business goals.
9. Compatibility Checks
Ensure your website is compatible across different browsers and devices.
Test new features or updates in a staging environment before going live.
10. Customized Maintenance Plans
Why Choose Us as Your Website Maintenance Company?
Our commitment goes beyond just maintaining your website. We view ourselves as partners in your digital journey. Our team stays updated with the latest WordPress trends, ensuring your website remains at the forefront of technological advancements. With a proactive approach, we anticipate potential issues and address them before they escalate, ensuring your website remains a robust tool for business growth.
In the dynamic world of WordPress, regular maintenance isn't a luxury—it's a necessity. As a premier website maintenance company, we ensure that your WordPress site remains secure, functional, and aligned with your business objectives. Partner with us and experience the difference of professional, comprehensive, and proactive website maintenance.